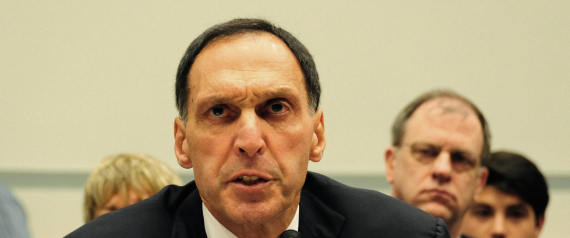 Dick Fuld, part villain and part unforgivably very confused bystander to the financial crisis in the eyes of most — and a victim of the financial crisis to himself — made a bizarre comeback at a conference in New York on Thursday.
In his first public appearance (other than sworn congressional testimony) since the collapse of Lehman Brothers, Fuld blamed regulators, borrowers and rumors for the end of the 158-year-old, $47 billion firm he led. It was a "perfect storm" that sank Lehman, not his own leadership or decisions, Fuld said, while touting Lehman's "success" to the audience. He also claimed that every one of the 27,000 employees who once worked for Lehman had been a risk manager, because they owned stock in the firm.
Lehman's September 2008 collapse was the first of many bank failures and market seizures that fall. It sparked the financial crisis that ended in a $416 billion bank bailout and left the country mired in the Great Recession.
Fuld's comments were initially carried live on the financial news network CNBC, but the feed was pulled by conference organizers part way through his remarks. Technically, Fuld was at the conference to deliver a keynote address titled, "How Emerging Growth Companies Can Succeed in Today's Capital Markets: Perspectives from My Journey." His comments, however, were a well-rehearsed if less-than-convincing defense of his own actions leading up to the largest bankruptcy in U.S. history.
He denied that Lehman was a failed company in September 2008 and intimated that he and the firm were victims of a conspiracy centered around former competitors in regulatory positions with a vendetta against him. Fuld, nicknamed the "Gorilla" during his career for his overly aggressive style, seemed temperamentally unchanged, telling one conference questioner, "Why don't you bite me?"
Months prior to Lehman's fall, Fuld had declared that "the worst of the impact of the financial markets is behind us" and pushed subordinates to take more risk, sidelining or firing those who disagreed with him.
Fuld is now working at his own firm, which is focused on the kind of small deals he would have scoffed at as CEO of a massive investment bank. The venue itself was an indication of his fall: an otherwise barely noteworthy conference focused on selling shares in tiny public companies.
How We Can Help
If you, a friend or a family member find themselves in a situation such as this, please call the Law Office of Scott A. Ferris, P.A. at 305 670-3330 right away. Scott A. Ferris, Esq. is a licensed family law attorney who has been practicing law since 1987. He is available whenever you need him to pursue your rights. Please learn about our firm at www.FerrisLawFirm.com.
Republished by the Law Office of Scott A. Ferris, P.A.
Source: www.huffingtonpost.com