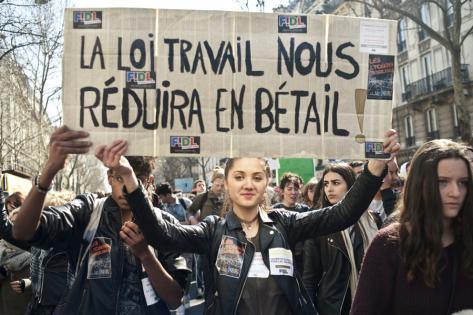 French Legislation Suggests Employees Deserve The Right To Disconnect
Checking your work email on a weekend or a holiday? As part of planned labor reforms, new legislation in France would encourage companies to create policies to help their employees disconnect from the office.
Buried inside a hotly contested French labor reform bill is an amendment suggesting that companies of 50 or more employees draft formal policies to limit the spillover of work, specifically as it's related to "digital technology," into the private lives of employees. This, according to the BBC, would involve establishing a policy that specifies hours when employees aren't supposed to send or receive email.
"All the studies show there is far more work-related stress today than there used to be, and that the stress is constant," Benoit Hamon of the French National Assembly told the BBC. "Employees physically leave the office, but they do not leave their work. They remain attached by a kind of electronic leash— like a dog. The texts, the messages, the emails — they colonize the life of the individual to the point where he or she eventually breaks down."
The BBC reports that companies would be expected to voluntarily adhere to the measure.
Work-related burnout appears to be a growing concern for the French government. In February, French Health Minister Marisol Touraine formed a working group in an effort to define and treat work-related exhaustion. According to an April article in the French daily Les Échos, about 1 in 10 of the nation's workforce is at a high risk of job-related burnout.
"The development of information and communication technologies, if badly managed or regulated, can have an impact on the health of workers," Article 25 of the bill reads, according to a New Yorker translation. "Among them, the burden of work and the informational overburden, the blurring of the borders between private life and professional life, are risks associated with the usage of digital technology."
Some have lauded this clause as a win in the battle against over-connectedness.
"The right to disconnect isn't necessarily an obligation 
 but it's an opportunity — to claim a little breathing room; to realize that the world won't stop turning, or even producing words or widgets, without one person's constant vigilance," wrote The New Yorker's Lauren Collins this week.
Others, though, have warned that the provision doesn't go far enough.
Jon Whittle, a researcher at Digital Brain Switch, a U.K. project looking at the impacts of digital technology on work-life balance, told The Washington Post that some employees may feel even more overwhelmed at the thought of returning, in the morning or post-vacation, to a deluge of emails.
"I think the topic of work-related well-being is much larger than simply stopping email after-hours," Whittle said. "Email is just a medium used to communicate. The real problem is the culture of having to constantly do more and constantly do better than competitors."
Even if the disconnection provision has received praise, the overall labor reforms have not been positively received.
Referred to as the El Khomri labor law after Labor Minister Myriam El Khomri, the legislation has been enormously unpopular. Critics of the bill say it will weaken unions, threaten employee rights and enhance job insecurity for young people. In recent months, opponents have staged widespread, at times violent, protests.
Earlier this month, the French government invoked a rarely used power to force the legislation through the lower chamber of Parliament.
"It is my duty to move forward and make sure this text is adopted," Prime Minister Manuel Valls told Parliament after an emergency cabinet meeting, prompting an onslaught of both boos and cheers.
CORRECTION: An earlier version of this article misstated that the legislation had been enacted; it is still pending before the Senate. Language has also been changed to clarify that the bill recommends, but does not require, companies to adopt the guidance on after-hours emails. This story also initially misidentified Hamon as the minister of education, a position he held for several months in 2014.
How We Can Help
If you, a friend or a family member find themselves in a situation such as this, please call the Law Office of Scott A. Ferris, P.A. at 305 670-3330 right away. Scott A. Ferris, Esq. is a licensed civil law attorney who has been practicing law since 1987. He is available whenever you need him to pursue your rights. Please learn about our firm at www.FerrisLawFirm.com.
Republished by the Law Office of Scott A. Ferris, P.A.
Source: www.huffingtonpost.com