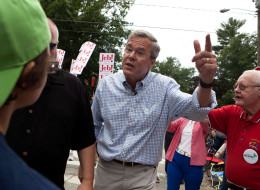 WASHINGTON — Rep. Paul Ryan, who was Mitt Romney's vice presidential nominee in 2012, declined Friday to say whether 2016 contender Jeb Bush's recent declaration that "Americans need to work longer hours" was as damaging as Romney's infamous "47 percent" remarks.
"You're Huffington Post aren't you? What the hell?" the Wisconsin Republican joked at first.
But Ryan, a notorious data geek, did offer his interpretation of what Bush meant to say.
"I think what he's talking about is the fact that there are too many people in America who have part-time jobs who want full-time jobs. That's a problem; that's what he's talking about," Ryan said. "If you get into the labor force participation rates, inside of that, there's a lot of part-time workers who don't want to be part-time workers, who want to be full-time workers."
Bush was hammered over the remark by commentators and the campaign of Hillary Clinton, which noted that Americans are the most productive workers in the world, and that while productivity has kept on rising, it is pay that has lagged. On top of that, Gallup reports that American workers already average nearly 47 hours per week.
Still, part-time workers' share of the workforce has been slowly falling since it peaked at 20 percent after the recession. It still stands at 18.6 percent, a couple of points higher than before the recession.
Asked how many times Bush would now have to say it Ryan's way, Ryan said, "Welcome to politics."
How We Can Help
If you, a friend or a family member find themselves in a situation such as this, please call the Law Office of Scott A. Ferris, P.A. at 305 670-3330 right away. Scott A. Ferris, Esq. is a licensed family law attorney who has been practicing law since 1987. He is available whenever you need him to pursue your rights. Please learn about our firm at www.FerrisLawFirm.com.
Republished by the Law Office of Scott A. Ferris, P.A.
Source: www.huffingtonpost.com