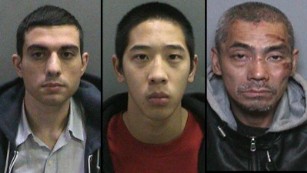 Police: Fight possibly staged in California jail escape
(CNN)A manhunt is underway in California for three inmates, including one who is accused of murder and another accused of torture, who escaped an Orange County jail Friday, authorities said.
"This was a very sophisticated escape. They cut through a quarter-inch metal plate," Orange County Sheriff's Lt. Jeff Hallock said Monday. "They crawled through unsecured plumbing tunnels to the roof. They cut through steel rebar."
They rappelled four to five stories some 50 feet high, using sheets, he said.
Jonathan Tieu, 20, was in jail on murder charges; Hossein Nayeri, 37, was in jail for allegedly torturing and kidnapping; and Bac Tien Duong, 43, was facing attempted murder charges.
Authorities warned that the men are extremely dangerous and asked that if anyone has information about the men they should call 911 immediately.
Nayeri has a previous conviction for homicide, officials said at a Monday afternoon press conference and when pressed on details about that conviction, they declined to give details.
Orange County Lt. Dave Sawyer described Nayeri's most recent arrest by saying that the escapee allegedly attacked a victim in the desert, poured bleach on the person, set the victim on fire and then severed the victim's penis. The victim survived, Sawyer said.
Tieu is a documented Vietnamese gang member, Sawyer said, and Tien Duong has Vietnamese gang affiliations.
An officer who spoke Vietnamese made an appeal in that language for television news crews, imploring the public and especially anyone in the Vietnamese community to speak up if they know anything about the escapees whereabouts.
Authorities are offering a $50,000 reward for information leading to the capture of the escaped prisoners.
"We're following every lead that we receive. We're in a position where we absolutely need the public's help," Hallock said.
The escape
"This was clearly a well thought out and planned escape," Hallock said. "It's unknown, but it could have taken them weeks, or even months, to prepare."
Officials released photos of the rope and other evidence Sunday.
Hallock said Monday that officials are learning more about how the men escaped. There were two head counts conducted, one at 5 a.m. and a second at 8 p.m. Friday, he said.
"We think they escaped after the 5 a.m. head count," Hallock said. Sometime around 8 p.m. there was a fight, which authorities suspect was staged to distract and delay the second head count.
The search for the escapees, last seen wearing orange jump suits, has expanded beyond southern California, he said.
Three inmates at large after escaping California jail
The inmates were housed in an area with about 60 other inmates, Hallock said, but it's unclear whether other prisoners saw the men escape.
The Orange County men's jail is predominantly for those charged with violent offenses, the spokesman said.
How We Can Help
If you, a friend or a family member find themselves in a situation such as this, please call the Law Office of Scott A. Ferris, P.A. at 305 670-3330 right away. Scott A. Ferris, Esq. is a licensed criminal law attorney who has been practicing law since 1987. He is available whenever you need him to defend your rights. Please learn about our firm at www.FerrisLawFirm.com.
Republished by the Law Office of Scott A. Ferris, P.A.
Source: www.cnn.com