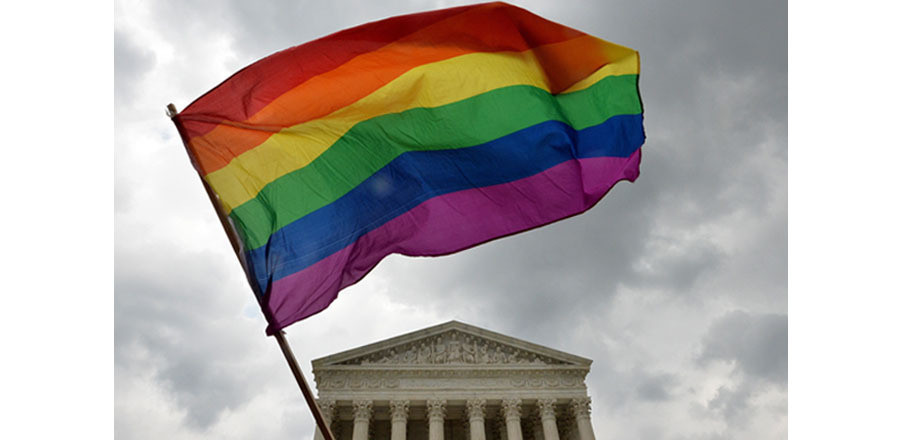 County clerks in Texas will be able to turn away gay couples seeking marriage licenses, the state's attorney general Ken Paxton (R) announced on Sunday.
Clerks can refuse based on religious objections, Paxton told the Austin American-Statesman, and because the clerks will probably be sued, "numerous lawyers stand ready to assist clerks defending their religious beliefs," he said.
Texas was one of 13 states that banned gay marriage before the Supreme Court ruled on Friday that those bans were unconstitutional, effectively legalizing gay marriage across the country. Therefore, it's not surprising that its lawmakers are trying to resist following the ruling.
Paxton railed against the ruling in an opinion, ordered by Lieutenant Gov. Dan Patrick (R), who wanted to find a way to legally protect those who were against gay marriage.
"Friday, the United States Supreme Court again ignored the text and spirit of the Constitution to manufacture a right that simply does not exist. In so doing, the court weakened itself and weakened the rule of law, but did nothing to weaken our resolve to protect religious liberty and return to democratic self-government in the face of judicial activists attempting to tell us how to live," Paxton wrote in the opinion.
Lawmakers in Louisiana and Mississippi, which also previously had bans on gay marriage, are actively resisting the ruling by delaying its implementation. Louisiana Attorney General Buddy Caldwell (R) claimed that because the Supreme Court's ruling did not include an official order for states to begin issuing marriage licenses to gay couples, "there is not yet a legal requirement for officials to issue marriage licenses or perform marriages for same-sex couples in Louisiana." Parish and city clerks were instructed to hold off on issuing licenses for 25 days, the amount of time states are allowed to appeal the Court's ruling.
Mississippi Gov. Phil Bryant (R) said the Supreme Court "usurped" each state's "authority to regulate marriage within their borders." He and other state leaders are considering various legal options, including halting all marriage licenses.
Texas, Louisiana and Mississippi are in the minority: most other states that had same-sex marriage bans in the books are now abiding by the Supreme Court's historic ruling.
In Georgia, Gov. Nathan Deal (R) said Friday the state "is subject to the laws of the United States" and a judge at a county court in Atlanta began performing the state's first gay marriages.
Michigan Gov. Rick Snyder (R) urged compliance with the ruling on Friday, asking the state to "treat everyone with the respect and dignity they deserve."
Alabama's attorney general, Luther Strange (R), issued a statement acknowledging that "the U.S. Supreme Court's ruling is now the law of the land" and pledging to enforce the ruling, though some counties in the state have stopped issuing all marriage licenses in an effort to avoid allowing gay marriages.
CLARIFICATION: This post has been updated to clarify Louisiana has parish and city clerks instead of county clerks.
How We Can Help
If you, a friend or a family member find themselves in a situation such as this, please call the Law Office of Scott A. Ferris, P.A. at 305 670-3330 right away. Scott A. Ferris, Esq. is a licensed family law attorney who has been practicing law since 1987. He is available whenever you need him to pursue your rights. Please learn about our firm at www.FerrisLawFirm.com.
Republished by the Law Office of Scott A. Ferris, P.A.
Source: www.huffingtonpost.com