As Same-Sex Couples Line Up To Wed, Others Celebrate The Right To Divorce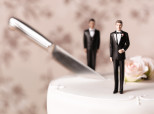 While courthouses around the nation are flush with same-sex couples ready to tie the knot, a New Orleans court has already seen another effect of marriage equality: divorce equality.
Shortly after the Supreme Court's landmark marriage equality ruling on Friday, Anna Wellman and Stephanie Baus filed for divorce at the Orleans Parish Civil District Court in Louisiana after years of waiting.
Making "bittersweet history" — in the words of The Times-Picayune — the couple quickly finalized their divorce before the city's first same-sex couple wed a few hours later.
Wellman and Baus were married in 2009 in Massachusetts, where marriage equality had been the law of the land since 2004. But when the pair decided to separate five years ago, they couldn't divorce in their home state since Louisiana didn't recognize their marriage.
Many states, such as Massachusetts, don't have a residency requirement to get married, but do have one to divorce. Depending on local laws, couples are required to reside in the state from six months to two years before getting a divorce. Before the Supreme Court's ruling, a same-sex couple seeking a divorce could end up tied financially, legally and emotionally to a partner regardless of whether they wanted to be.
And while that hurdle has been overcome in the wake of the Supreme Court's ruling, a host of other complexities involved in dissolving a same-sex union have cropped up.
Family attorney Michael Bialys with the California-based Gay Family Law Center told The Huffington Post that the tricky part with same-sex marriages is knowing when the clock starts on those unions, which affects common divorce issues like the division of property.
"Let's say I live with my partner in 2000. The minute we can become domestic partners in 2009, we do. And in 2012, we get married officially. And in 2015, we want to divorce: That issue hasn't been really addressed," Bialys said. "Are you entitled to all the benefits of marriage retroactively?"
Traditionally in common-law states such as Colorado or Kansas, the clock on a union can start once a couple passes the cohabitation threshold for a common-law marriage, even if they never get officially married. In civil states such as Louisiana and California, assessing the couple's community property starts only when they officially marry, regardless of how long they were together before that.
Custody may prove another tricky situation for divorcing same-sex couples, due to traditional perceptions of caregiver roles (which usually favor the mother) and biological ties when a child shares DNA with one or neither of the parents.
Just as overall divorce laws took a few decades to be fully formed, laws surrounding same-sex divorces may take a while to get up to speed.
"In the '50s, people weren't getting divorced, and in the '60s when it was happening more, the law caught up — but it realistically took about 20 years for the law to catch up," Bialys said. Same-sex couples, he notes, may be in for a similarly long wait.
"It's going to be a while, and there are going to be inconsistencies in the decisions."
How We Can Help
If you, a friend or a family member find themselves in a situation such as this, please call the Law Office of Scott A. Ferris, P.A. at 305 670-3330 right away. Scott A. Ferris, Esq. is a licensed family law attorney who has been practicing law since 1987. He is available whenever you need him to pursue your rights. Please learn about our firm at www.FerrisLawFirm.com.
Republished by the Law Office of Scott A. Ferris, P.A.
Source: www.huffingtonpost.com