Family considers taking legal action after Miami-Dade cop charged in man's death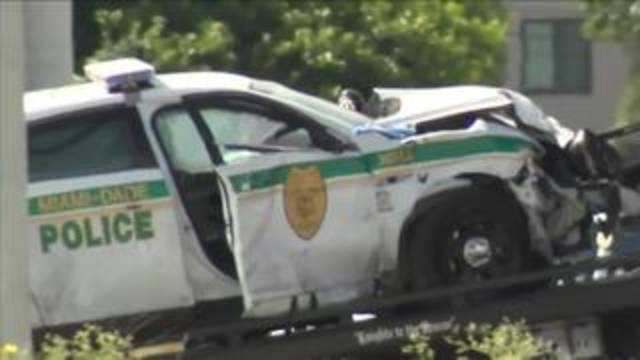 HIALEAH, Fla. – The wife of a man killed in a car crash involving a Miami-Dade police
officer spoke to reporters Thursday, a day after the officer was arrested.
Prosecutors allege that the officer's actions resulted in the death of Emilio Vizcaino, who was driving down a dark southwest Miami- Dade roadway around 1:30 a.m. March 6.
Eileen Avalos fought back tears as she described her late husband.
"He was an excellent father, a great son and a super husband," Avalos said in Spanish.
Prosecutors announced Wednesday that Officer John Young Song has been charged with vehicular homicide in connection with the crash.
"We, on behalf of the family, are very grateful with the investigation that has occurred. The Miami-Dade Police Department, the State Attorney's Office and bringing forth charges for this horrible accident," attorney Alexis Izquierdo said.
Avalos said she feels satisfied that the Miami-Dade County State Attorney's Office took the case seriously.
Prosecutors said Song was speeding at nearly 80 mph in a 40 mph zone when he crashed his marked police car into Vizcaino's car.
According to prosecutors, Song was on duty, but did not have his emergency lights or sirens activated when he ran a stop sign at the intersection of Southwest 260th Street and 147th Avenue.
Prosecutors said he also did not have his headlights on.
"We didn't know that he was traveling without any lights, without any sirens and at that rate of speed. So this is all new information for us, as well," Izquierdo said.
Vizcaino's family is considering taking legal action against the department. Vizcaino is survived by his wife and one son.
How We Can Help
If you, a friend or a family member find themselves in a situation such as this, please call the Law Office of Scott A. Ferris, P.A. at 305 670-3330 right away. Scott A. Ferris, Esq. is a licensed criminal defense attorney who has been practicing law since 1987. He is available whenever you need him to pursue your rights. Please learn about our firm at www.FerrisLawFirm.com.
Republished by the Law Office of Scott A. Ferris, P.A.