For The First Time Ever, Chicago Agency Says Cop Should Be Fired For Shooting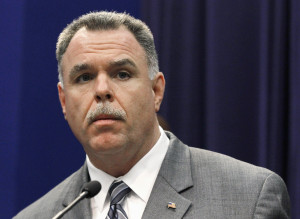 CHICAGO, June 30 (Reuters) – For the first time in its nearly eight-year history, a Chicago review agency that looks at misconduct allegations against the city's police has recommended that an officer be fired for shooting someone, an agency spokesman said on Tuesday.
The Independent Police Review Authority (IPRA), a civilian body, found that the officer was "inattentive to duty" in 2011 when he fired shots at the wrong car after a drive-by shooting, seriously injuring an innocent driver.
The authority also found that the officer provided false information regarding his actions, according to a report on the agency's website.
The officer, identified in media reports as Francisco Perez, had been working off-duty as a security officer for a Mexican restaurant on the city's northwest side at the time of the shooting, the IPRA report said.
Someone in a red car, a Mitsubishi Galant, fired at people outside the restaurant, killing one, and fled, according to the report. But Perez fired at a blue Chrysler, hitting the 28-year-old driver in the back.
Perez later claimed he was firing at the red vehicle, though he had earlier told police dispatch he had shot at the blue car, the report said.
The review board has recommended that the officer be fired, IPRA spokesman Larry Merritt said.
Ultimately, the decision on whether to fire Perez is up to the Chicago Police Board.
Chicago Police Department spokeswoman Jennifer Rottner said Perez had been moved off the street and assigned to desk duty, but she could not comment further due to the pending investigation. A representative for the police union also declined comment.
IPRA has investigated over 350 officer-involved shootings since 2007, according to its website.
Families of victims have complained about IPRA for almost always finding fatal officer-involved shootings justified. Police nationwide have faced increased scrutiny in the past year following controversial fatal shootings of unarmed black men in Missouri and South Carolina.
Daniel Herbert, an attorney for Perez, was not immediately available for comment. (Reporting by Mary Wisniewski; Editing by Eric Beech)
How We Can Help
If you, a friend or a family member find themselves in a situation such as this, please call the Law Office of Scott A. Ferris, P.A. at 305 670-3330 right away. Scott A. Ferris, Esq. is a licensed family law attorney who has been practicing law since 1987. He is available whenever you need him to pursue your rights. Please learn about our firm at www.FerrisLawFirm.com.
Republished by the Law Office of Scott A. Ferris, P.A.
Source: www.huffingtonpost.com