8 Perks Of Being Divorced During The Holidays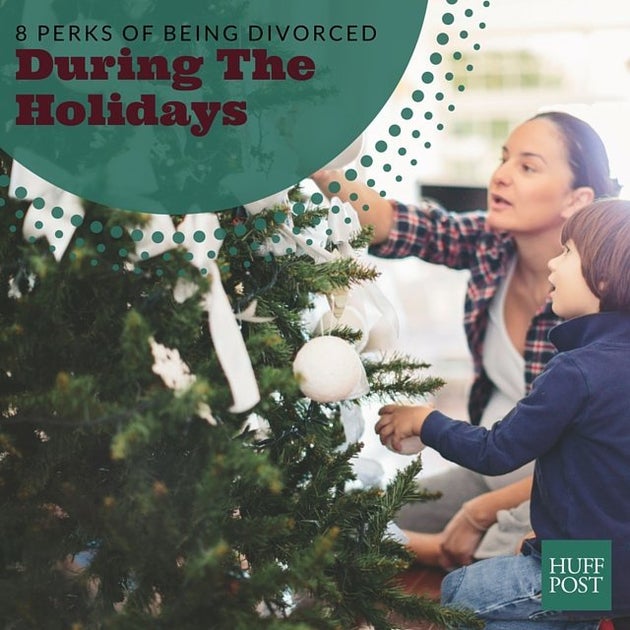 8 Perks Of Being Divorced During The Holidays
The holidays may be different after divorce but that doesn't mean the season has to be any less special for you and your family.
Below, HuffPost Divorce bloggers and readers from our Facebook community share eight ways the holidays have actually improved since their divorces.
1. You create new traditions with the kids.
"Since my divorce, the kiddos and I have come up with our own very special family traditions. I've let go of some of the obligations that were stressful for me (sending out Christmas cards, baking for the entire extended family) and now we spend that time cuddling on the couch, watching 'A Christmas Carol' or taking a drive to check out Christmas lights. The holidays now are much simpler, but we're more connected than ever." — Kasey Ferris
2. You get to decide which religious traditions to observe.
"My ex was a strict churchgoer, which meant we had to spend Christmas morning at church. There's nothing wrong with attending church, but attending on Christmas morning takes away from everyone relaxing, opening gifts and just simply enjoying time together as a family. I'm finally feel free to enjoy the holidays and that makes me happy!" — Tiffany Benyacko
3. You realize your time together is special regardless of the date.
"The actual date you celebrate makes no difference. Any day with my kids is my day and our time. We laugh and play and enjoy it like it's just as special as the actual day. Does it really matter if you don't have them on the 24th or 25th? Nope. What matters is how they feel with you on whatever day!" — Tyler Wimberly Castleman
4. The holidays are blissfully free of marital stress.
"The holidays have been up for me post-divorce. I still get to spend Christmas Eve with my (now adult) kids and my girlfriend. I don't have to deal with the failing marriage stuff. The season already comes laden with expectation and childhood baggage; a failing marriage is both fueled by and accentuated by all that — it's a perfect bad cycle. The holidays seem to be happier for me lately." — Mark Schwartz
5. If you're part of a blended family, the celebration includes even more people you love.
"The three couples in our extended blended family, plus our two kids (and even six dogs!) come together on Christmas Eve and stay the night at my ex-husband's house. We all share in the fun of putting presents out for our kids and we all share in the magic of Christmas morning. My 'family' has grown as a result of the beautiful friendships created in spite of what was once a very sad and difficult time. This is our family tradition and we've each grown to love and appreciate it." — Shelley Wetton
6. You create new, happier memories.
"The best part is starting new traditions, whether it be alone or with friends, family, or a new significant other. It helps replace the old memories." — Sasha Rivergate
7. It's a lot less hectic.
"The first Christmas as a divorced parent, I was determined to make it the same joyous holiday it had always been for my kids. This entailed me lugging a tree into my living room, trying to get it into a standing position, cooking huge amounts of food, wrapping gifts like a maniac at 2 a.m. Christmas morning and then the grand finale: lugging the tree out after New Year's, leaving a trail of pine needles and tinsel that are still embedded in my carpet, four years later. The following year I realized that Christmas would never be the same for my kids but at least their dad still did a huge Christmas at his house. Now, Christmas is a real holiday for me. It's the upside of divorce: My kids spend Christmas Eve and day with their dad. I wake up leisurely. I may have friends over, go see my parents, or more likely, binge-watch 'Real Housewives Of New York City.' Yes, Christmas will never be the same now that I'm divorced but guess what? I'm lovin' it!" — Amy Koko
8. You get to play Santa however you'd like.
"I think what I love most is that I get to be Santa for myself and my boys. In the past I'd have to remind my ex-husband to get my stocking stuffers and that usually happened last minute. It's so fun to get my own little gifts now. I try not to make presents the focus of Christmas, but it's nice to have some meaningful little gifts to wake up to and open with my boys!" — Jennifer Iacovelli
How We Can Help
If you, a friend or a family member find themselves in a situation such as this, please call the Law Office of Scott A. Ferris, P.A. at 305 670-3330 right away. Scott A. Ferris, Esq. is a licensed family law attorney who has been practicing law since 1987. He is available whenever you need him to pursue your rights. Please learn about our firm at www.FerrisLawFirm.com.
Republished by the Law Office of Scott A. Ferris, P.A.
Source: www.huffingtonpost.com