Barber Sentenced For Cutting Customer's Throat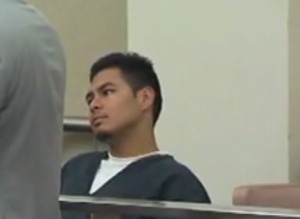 SAN DIEGO, June 11 (Reuters) – A San Diego judge sentenced a barber on Thursday to 10 years in prison for inexplicably slashing a customer's throat during a haircut and shave before pedaling away on his bike.
U.S. Navy Petty Officer Timothy Vaughn, 33, was at Vic's Barber Shop in Imperial Beach, just south of San Diego, for a haircut in October when barber Daniel Roberto Flores calmly slashed a straight razor across Vaughn's throat twice.
"Mr. Flores waited until people left the room," Deputy District Attorney Laura Evans said. "He insisted on trimming the victim's beard. He said: 'I could cut your throat', and then he did."
Flores, 22, then left the shop and pedaled away on his bike.
Vaughn spoke at the hearing, recounting the horrifying moment of the attack and how his training as a medic kicked in and allowed him to save his own life despite severe injury and blood loss. He has since spent hundreds of hours in physical therapy, surgery and psychiatric treatment trying to recover.
"I stand here filled with anger and rage because you're still breathing," Vaughn told his attacker. "I survived a gruesome, heinous attack. I relive it every hour, every day, with nightmares when I try to sleep."
Police said the two men did not know each other, and there was no conflict or argument before the attack.
In giving Flores the maximum sentence, two years more than recommended, the judge noted the great harm inflicted on Vaughn and his family, noting that Vaughn might be discharged from the Navy because he is no longer deployable.
"The victim was particularly vulnerable," Superior Court Judge Garry Haehnle said. "Mr. Vaughn trusted this man to do what a barber would do."
Most troubling, Haehnle noted, was that no one knows why Flores attacked Vaughn, and Flores can't explain it.
"There were no audio or visual hallucinations, no fear of harm to explain this; he just doesn't remember," Haehnle said. "He is a great danger to society." (Editing by Cynthia Johnston and Eric Walsh)
How We Can Help
If you, a friend or a family member find themselves in a situation such as this, please call the Law Office of Scott A. Ferris, P.A. at 305 670-3330 right away. Scott A. Ferris, Esq. is a licensed family law attorney who has been practicing law since 1987. He is available whenever you need him to pursue your rights. Please learn about our firm at www.FerrisLawFirm.com.
Republished by the Law Office of Scott A. Ferris, P.A.
Source: www.huffingtonpost.com