Eric Weddle Fined for Watching Daughter Perform at Halftime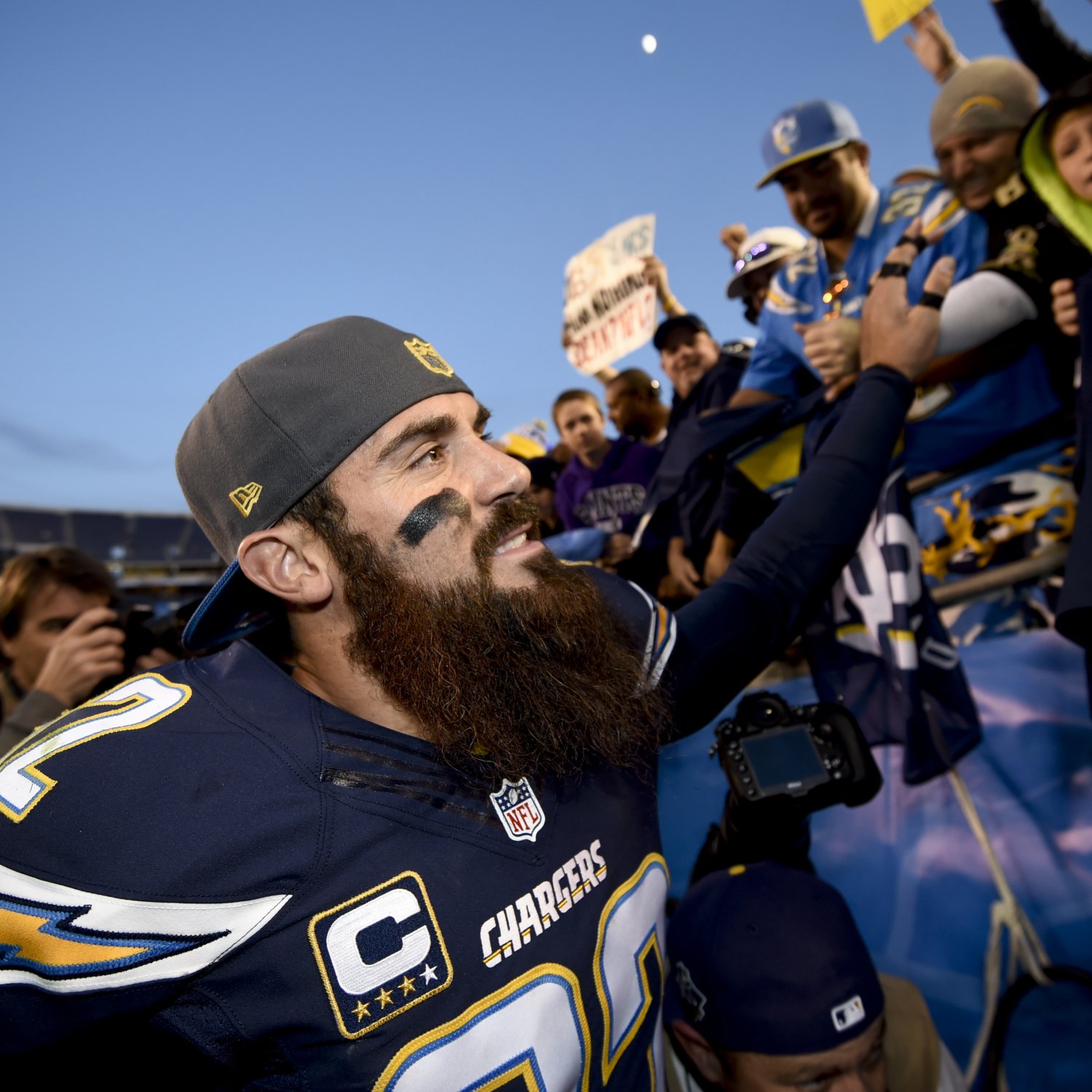 Eric Weddle Fined for Watching Daughter Perform at Halftime
San Diego Chargers star safety Eric Weddle was fined $10,000 by the team for watching his daughter partake in a halftime performance during Week 15's game against the Miami Dolphins.
Kevin Acee of the San Diego Union-Tribune reported the news Monday, noting the 30-year-old was "furious" about it. Weddle's agent, David Canter, had been mum about the fine but elected to make it public knowledge Monday:
The Chargers released a statement from head coach Mike McCoy explaining why Weddle received the fine:
Yes we did. We have a policy here, and a situation took place two weeks ago at our stadium. So yes, we did fine him. It's an organizational call. We have a club policy here, and there are certain things we have to do at halftime to make adjustments, and things like that. That's why we did that.
Prior to the 2015 campaign, Weddle was a brief holdout, skipping the Chargers' voluntary workouts because he "felt disrespected by the way the organization [was] handling [contract extension] negotiations," per ESPN.com's Eric D. Williams.
In light of Weddle's deteriorating relationship with the organization and the Chargers' woeful 4-11 record entering Week 17, it stands to reason the safety will flee San Diego as a free agent this offseason.
According to Acee's report, Weddle didn't tell team officials he would remain on the field to watch the halftime show. It may well have been his final home game, and now the memory has been soured with a deduction from his paycheck.
Canter said Weddle was placed on injured reserve and told he couldn't travel with the team for its last game against the Denver Broncos because the plane was "too small."
A subsequent tweet from Canter seemed to ensure Weddle won't don a Chargers uniform beyond this season:
In response to Acee's story, Canter also said the declaration that Weddle's relationship with the Chargers is not "fine" is the "understatement of the decade."
Especially now that Weddle has been placed on IR against his wishes, he has little reason to stick around in San Diego. The Chargers didn't reward his loyalty and consistent production with a contract extension or fair treatment this year, so he's bound to be playing elsewhere come next season.
Weddle will have no shortage of suitors should he make it known he's leaving the team for which he's played the first nine years of his NFL career. He is among the best defensive backs in football and will likely be rewarded with a huge payday.
How We Can Help
If you, a friend or a family member find themselves in a situation such as this, please call the Law Office of Scott A. Ferris, P.A. at 305 670-3330 right away. Scott A. Ferris, Esq. is a licensed civil law attorney who has been practicing law since 1987. He is available whenever you need him to pursue your rights. Please learn about our firm at www.FerrisLawFirm.com.
Republished by the Law Office of Scott A. Ferris, P.A.
Source: www.bleacherreport.com