I Learned What 'Happily Ever After' Really Meant After Divorce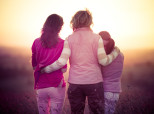 "This Is Divorce At…" is a HuffPost Divorce series delving into divorce at every stage of life. Want to share your experience of divorcing at a certain age? Email us at divorce@huffingtonpost.com or tweet @HuffPost Divorce.
As writer Nancy Lay-King tells it, divorce at 56 has its own unique challenges.
"It's just a matter of moving forward," said Lay-King, who split from her husband just a few weeks shy of their 26th wedding anniversary. Still, as she's discovered firsthand, recovering from divorce after 50 means you lack the timeline of younger divorcés.
"At my age, the reality is there are far fewer years in front of me to recover emotionally and financially," she told The Huffington Post. "I sometimes envy those who are divorcing in their thirties and forties; they have the luxury of time which is not something I have."
Slowly but surely, Lay-King has picked up the pieces and started anew. Below, the DivorcedMoms.com writer tells us more about the ongoing process of moving on.
Divorce is devastating at any age. In my case, I was 56. The relationship had existed for half of my life. If I had read every book on the subject prior to pulling the plug on my marriage 10 months ago, I still would not have believed or been ready for the depth of pain I experienced.
But slowly I realized divorce meant there was room for new happiness. I quickly purged the stuff that slowed me down, starting with anything that reminded me of him, from his clothes, to his favorite cooking utensils. I moved out and decorated my place the way I wanted to. I redecorated myself in a way as well, replacing my old uniform of stretchy pants and tees with business clothes and ridiculously high, sexy heels — and some good hiking boots. And I went back to doing things I'd loved, but had put on the back-burner while focusing on the needs of my family, like horseback riding, dancing and enjoying live music in hole-in-the-wall jazz clubs.
I have a long list of regrets from my marriage including focusing on his career over my own. Workers over fifty are low on most recruiter's "call back" list so needless to say, recovering a career at 56 was very, very hard. I lost count of how many rejections I received as I sought an opportunity to fill not only my empty bank account, but refill my sense of worth in the working world. I've been relentless in my pursuit, determined to not only get a job, but the job and after some fits and starts, I did just that. I'm working now. I will always be competing with younger, ambitious peers (hey, who isn't?) but I bring some things to the table that others cannot — namely, the proven ability to fly without a net! At this point, I'm not afraid of anything.
My family and friends often tell me how impressed they are by what I've accomplished in this horrible divorce year but the reality is, I didn't have a choice. The sadness still overtakes me at times, like when I'm driving home from work and realize no one is home wondering what time I'll get back. But it isn't as emotionally staggering as it was a few months ago. (And I look on the bright side: I no longer have to cook or watch football or basketball ever again. Talk about a win!)
The best advice I've received — and by far the most difficult to follow — was when someone told me to create new memories to replace the old ones. When you were married for over 25 years, everything represents a memory. You have to close your heart to memories with your ex and look forward to creating new ones with your family.
Divorce wasn't the end for me. Instead of looking at my life as empty now, I see it as room to grow. My life can be centered around whatever I want — and as far as I'm concerned, that's what "happily ever after" really means.
How We Can Help
If you, a friend or a family member find themselves in a situation such as this, please call the Law Office of Scott A. Ferris, P.A. at 305 670-3330 right away. Scott A. Ferris, Esq. is a licensed family law attorney who has been practicing law since 1987. He is available whenever you need him to pursue your rights. Please learn about our firm at www.FerrisLawFirm.com.
Republished by the Law Office of Scott A. Ferris, P.A.
Source: www.huffingtonpost.com