Surviving a South Florida Canal Crash – Don't Become a Water Death Statistic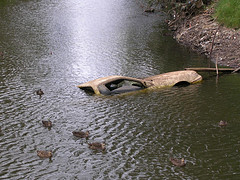 Surviving a South Florida Canal Crash – Don't Become a Water Death Statistic 
South Florida's waterways make beautiful scenery, but they are dangerous. With so many waterways that do not have barriers to keep cars from sliding or crashing into them, canal crashes can easily become fatal.
These crashes are more common than you may think. On Sept. 18, a 78-year-old man was rescued after his Honda minivan sank in a Florida City development's pond. The water seeped inside and up to his chest.
According to reports, officers could hear the driver's screams for help, and had to break the van's windows in order to rescue him because the doors wouldn't open. The driver was rescued and later safely reunited with his family.
During 2011, there were an estimated 213 people killed and 460 injured in "immersion crashes,"according to the National Highway Traffic Safety Administration.
In Florida alone, there were 9 water deaths in 2012, 8 of which happened in canals. Another 202 were injured, 144 in canal crashes.
With so many deaths and fatalities, it is important to address the safety precautions that Florida drivers can take to save their lives and the lives of their passengers. For around $8, you can purchase the tools needed – a window punch and a seatbelt cutter – to help in the event of a canal crash.
 The punch typically looks
like a metal pen with a long point that is spring loaded. When aimed at the corner of a window that refuses to budge, it will crack it, which can let everyone in the car get out safely. People of all ages can use this tool in emergency situations.
When a car enters a waterway, it can float for just a few seconds or to up to three minutes, before it sinks. If the water is more than 14 feet deep, the car can even land on its roof.
The following tips are important for drivers to consider when it comes to surviving a water crash:
Remove the seatbelt as quickly as possible.
Open or break windows immediately – this is where a window punch can come in handy. Keep in mind that power windows may not work in water.
Always get children out of the vehicle first, and carry the smallest ones against the incoming water.
Swim away from the vehicle as soon as you are freed.
How We Can Help
If you, a friend or a family member find themselves in a situation such as this, please call the Law Office of Scott A. Ferris, P.A. at 305 670-3330 right away. Scott A. Ferris, Esq. is a licensed civil law attorney who has been practicing law since 1987. He is available whenever you need him to pursue your rights. Please learn about our firm at www.FerrisLawFirm.com.