'Unbundling' — A Great Example of How to Divorce Amicably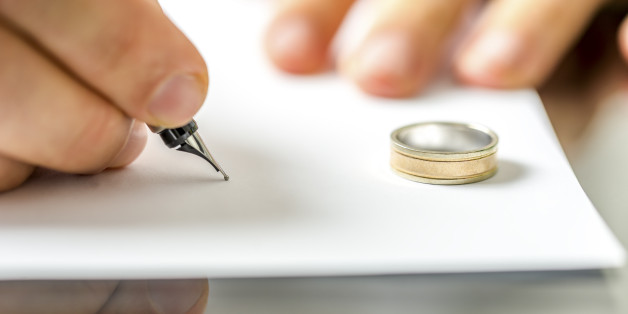 'Unbundling' — A Great Example of How to Divorce Amicably
A friend of ours on Facebook, whom we'll call E, recently announced in a status update that he and his wife are divorcing. We were so impressed with the tone and spirit of the message and the approach to uncoupling they seem to be taking, we asked if we could reprint his posts here. They graciously agreed. Below is their excellent example of how to gently break up a marriage, especially one with a kid, with thoughtfulness, deliberation and kindness:
April 2
Life update: after 17 years of marriage, R and I have decided to separate. We came to that decision in the most cordial manner possible, with hugs, a kiss, and a shared toast to our separate futures. We are deeply committed to remaining good friends and to being excellent co-parents to D. For the moment, we're living together in our house and we'll work towards separate households once D's school year is over.
Relationships end for lots of ugly reasons – that's not the case with ours. R and I have been together since she was 18 and I was 20. We've both grown a lot since then, and in some different directions. As her involvement with her faith has deepened, she's being pulled to a different life and lifestyle than the globetrotting social change and teaching lifestyle I've embraced. While it's very sad to close a chapter that's had numerous high points, it's also exciting to think about what's next. I can't wait to see who R becomes and I'm looking forward to watching the transformation as a friend and partner in parenting.
As for me, I'm a single man for the first time in 23 years. Advice on embracing the future ahead of me would be welcome. For instance, what's this Tinder thing everyone keeps talking about?
May 8
Unbundling update:
R and I have been looking for a word for divorce that isn't quite as fraught with "Kramer vs. Kramer" type baggage, a term that recognizes that we're trying hard to remain good friends through this process, and a new sort of partners as co-parents. So I'm trying out "unbundling," a term that's very trendy these days in the cable industry.
With that in mind, we are happy to announce that R and I will both be providing the same high quality service towards our friends that you have grown to know and expect from us, but we will no longer be available as a package deal. While we hope you will continue your relationship with both R and E, you now have freedom of choice as consumers to choose either – or preferably both – of us to fulfill your friendship needs. D comes with both the R and the E "skinny bundles". (The R bundle is significantly skinnier than the E skinny bundle).
After celebrating Mothers' Day, R and I told D that we were going to stop living together, and that he and R would be moving to a new house nearby. We described the upsides of the move – he gets a bunk bed, and to choose the paint color for his new bedroom – and he was enthusiastic… and then got very sad for a few moments. I suspect his sadness was as much a reaction to the sadness both R and I were exuding as a deep understanding of the changes that are going on in his life. As R mentioned later in the day, "I don't think he really understands what marriage is – he keeps telling me that he's going to marry me when he grows up."
We took D to the condo development where R has purchased a unit, and showed him some of the features. (She doesn't close until late June, so we weren't able to see inside.) The idea of a mailbox he can open with a key and bring mail to Mom is exciting, as is a swimming pool he can walk to. Most exciting: a vast green lawn that he can play soccer on, a great contrast to the hilly, obstacle strewn backyard he and I currently play in.
And then we headed off on a set of errands and adventures together – shopping for summer clothes, which D will get to try out in Texas with R later this week, a few hours at the local carnival (in the parking lot of our dying shopping mall) and burgers and beer at our local. (No beer for D. Lots of beer for me.)
And so – we've successfully navigated Mothers' Day, announced our unbundling to the most important person in each of our lives, and spent a decidedly pleasant day in each other's presence. Not bad for life five weeks after deciding to divorce. Fingers crossed that we can keep this up through R's upcoming move, the lawyers, the new experience of living apart.
Thanks to everyone who's offered love and support to either or both of us. We're doing as well as we can, and better than expected, hard as this all is.
How We Can Help
If you, a friend or a family member find themselves in a situation such as this, please call the Law Office of Scott A. Ferris, P.A. at 305 670-3330 right away. Scott A. Ferris, Esq. is a licensed criminal defense attorney who has been practicing law since 1987. He is available whenever you need him to pursue your rights. Please learn about our firm at www.FerrisLawFirm.com.
Republished by the Law Office of Scott A. Ferris, P.A.
Source: www.huffingtonpost.com